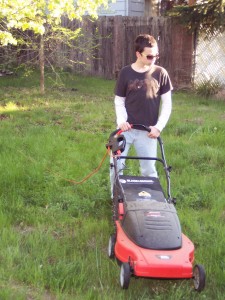 Just another teenager mowing the lawn? At first glance, perhaps. But a closer look reveals a secret weapon or two: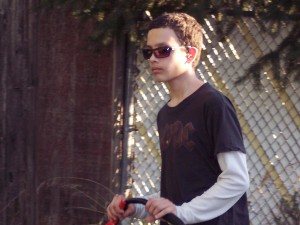 Anyone who knows Nigel knows that mowing the lawn is not an easy thing for him to accomplish. Here's what's working against him:
1) Sensory issues, the obvious offender. Notice the ear plugs to help muffle the sound of the mower and the sunglasses to fend off the glare of the sun.
2) Nigel's fear of bees and other flying insects. Notice the long-sleeved shirt and jeans even on the warm day.
3) Nigel's inherent lack of understanding about household responsibility and his lack of desire to contribute. Notice the hurried, haphazard zigzagging direction that he's taking.
What motivated him to forge ahead in spite of these obstacles? Seeing other teenagers in the neighborhood mowing their lawns. Nigel's desire to "be like everybody else" was motivating enough for him to brave the elements and take some responsibility around the house. Of course, I have to realize that this may be just a one-time engagement. After about ten minutes, a wasp came "dangerously" near him, causing us to renegotiate what constitutes a mowed lawn. But hey – under the circumstances, I'm pretty impressed that he even tried. He told me that he'd try again on a cloudy day, because "bees don't swarm so much on cloudy days." I'll take his word for it. Happy Spring, everyone!