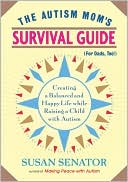 You're probably going to see this often when reading reviews of The Autism Mom's Survival Guide: Susan Senator has done it again. Her second book is excellent on its own, or as a companion to her first, Making Peace with Autism, which I loved and reviewed.
And I love this one, too. Reading it was like Senator holding my hand, leading me through the process, coaching me. The first chapter is an essential look at perspective and how it shapes our views and emotions. It refers not only to our own perspective, but that of our relatives, friends, and neighbors, and society in general. Senator deftly and graciously addresses the issues of depression and coping with judgment and criticism, and she lists helpful strategies for parents to free themselves of "autism baggage." What follows is a chapter on the various types of therapy and autism treatment, as well as a discussion about the variance of the spectrum and how the autism community is divided over the cause and cure issues. Senator offers concrete advice for gaining perspective on these issues and choosing therapies for our children.
The bulk of this exceptional book is filled with many personal anecdotes from various autism parents interviewed by Senator while she researched and wrote the book. These parents candidly offered their experiences in different areas, including having fun with their children on the autism spectrum, planning successful trips, taking care of their own needs, focusing on their marriages, and getting help from others. Senator herself contributes many personal examples and advice in these sections, including a lovely description of a trip her family had taken to Colorado, which involved much planning and preparation. Her son, Nat, attended an extreme-sports camp specifically designed for kids with autism while she, her husband, and their two other children explored Colorado. One of my favorite parts of the book was Senator's beautiful description of coming back to the camp to pick up Nat. "I was ravenous to see Nat again. We all were, but Nat was nowhere in sight. 'Keep watching the trees,' a counselor told us. The trees? A few moments later, a rustling sound, and then, suspended on a rope from a zipline, Nat came sailing through the trees with a hardhat on his head and a smile on his face."
The final chapters of the book cover our children's growing up years, including the subject of residential placement, and becoming adults, with sections on independence and advocacy. Since my own son is rapidly approaching this point, I found all of the information especially helpful and comforting, coming from someone like Senator, who eloquently describes both the beauty and the difficulty of her experience. She ends The Autism Mom's Survival Guide with an absolutely brilliant epilogue that I'm not going to give away in this review. You'll just have to read it for yourself!