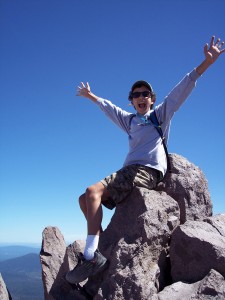 An adventurous spirit runs through Nigel's blood from both sides of the family. In spite of his fear of bees and other flying insects, he tackled Mt. Lassen with a fervor usually reserved for Lego-building. I, having climbed Mt. Shasta earlier this summer, was impressed and proud.
He was often ahead of me on the 5-mile round-trip trail, which isn't long compared to the 14 miles for Mt. Shasta, but for a 13-year-old climbing his first mountain, it was quite an accomplishment. He noted with excitement that this, at 10,457 feet, was the highest he'd ever been on land.
Meanwhile, Aidan had a fun time kayaking with Grandma around the lake. She said that he followed her instructions and they made a great team.
Day 2:
Nigel, sore from yesterday's climb, has a bee-induced meltdown while on an interpretive trail in a section of the park called the Devastated Area. I'm not joking; it's really called that. I can laugh about it now. On the way back to camp, I realize that I deserve the Slacker Mom of the Year Award for not reminding Nigel to take his medication. We had packed it, but he had forgotten to take it. I note once more, after the meltdown, that the medication really does help, because of how his behavior is affected when he doesn't take it.
Meanwhile, Aidan stayed in the car.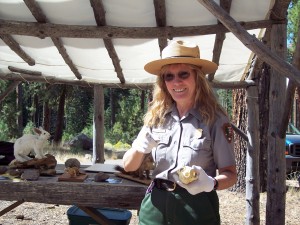 Day 3:
We got to see my mom in action doing one of her Ranger programs! Here she is holding a bobcat skull. It has been her dream since childhood to be a Ranger at Lassen National Park, and this summer she achieved it! Way to go, Mom! 
After the program, we started on our drive home, stopping at Burney Falls State Park in northern California. I had been here over twenty years ago, and the falls are just as beautiful as I remembered them. I was happy to be able to share the experience with my sons.
Meanwhile, Aidan refused to be in the photo. But he agreed that the falls were pretty!