What's both beautiful and exhausting at the same time?
Answer: autism and climbing mountains
I suppose that giving birth could also be a fitting answer to the riddle, running a marathon and stuff like that. But autism is a part of my daily life, and I just climbed a mountain yesterday, so that is what I'm going to write about.
Early Saturday morning, my sister Macrina and I met up with my friend and excellent guide, Tom Prescott (a big shout-out to Tom, without whom we couldn't have done this), and drove an hour and a half to the trailhead for Mt. Shasta in northern California. We then strapped on our 50-pound frame packs and proceeded to hike five miles to base camp at 10,400 feet. It was brutal! I can hike forever, but I hadn't thought to train with a heavy pack on, and I wish I had! We got up at 3 AM on Sunday and put on lots of warm layers, crampons, helmets, and smaller day packs with water, our camera, and Power Bars. Then we started up the remaining two miles to the summit. Parts were very scary, like when we were climbing up a crazy-steep (about 60-degree) slope of snow and ice, literally clinging to the mountain with crampons and ice axes. For someone with a fear of falling (me), it required an intense amount of focus and trust. In what do you trust? Your equipment, your technique (I did some mountaineering research last week, but it was my first time trying it out!), and whatever higher power works for you.
At 11:11 AM we reached the summit! Most sources list the elevation as 14,162 feet, but according to Wikipedia, the most current and accurate height per the National Geodetic Survey is 14,179. Here I am with my slightly shorter (but hardier) sister: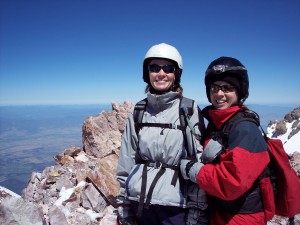 As I marveled at our accomplishment, I thought about how often the difficulties we face in life are likened to climbing a mountain ("Climb every mountain . . ." from the Sound of Music, "I have climbed highest mountains . . ." from "I Still Haven't Found What I'm Looking For" by U2). Raising an autistic child has often been like climbing a mountain for me. I don't know if a summit even exists, but I will keep climbing, I will focus, and I will trust. Life with autism, though sometimes daunting, is not insurmountable.
Upon returning home, I went to Climbingmtshasta.org to read the Summit Log (unfortunately it had to be disabled due to spam, so I was not able to contribute). I was moved by the number of entries from people who said that climbing it changed their lives, and that the spirit of Mt. Shasta will always be with them. I find myself in that category as well. It is a mystical mountain, majestically standing alone, one that I have loved since first seeing it at age seven. Now, exactly thirty years later, I faced my fear and made it to the top.