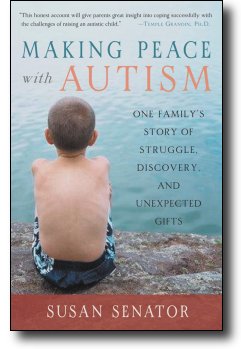 Even when I had only heard the title of this book, I knew I would love it. I knew it would be the perfect book for me to read.
The approach of accepting autism would have been enough on its own for me to like the book, but Susan Senator's writing is exceptional, and that is why I love this book. I laughed, I cried, I truly felt she's been through the same trenches I have. She understands. And she exudes a level of empathy through her words that brought me more comfort than any other book about autism I have read.  
Senator opens with a situation that is all too familiar to many ASD families: something occurs that necessitates making a transition before the autistic family member is ready, and an outburst ensues. Senator drew me in with her description of what happened and how each family member was affected by it, and I certainly identified with all of it.
The book then continues in a chronological format, discussing her son's early years, how he lined up his toys and stared at them while he sucked his thumb, which was exactly what my son did (although he sucked his index and middle finger instead of his thumb). She discussed her reaction to the diagnosis, going into depth about her emotions and listing all the questions that those of us who have been through it also asked. All the whys, hows, and what-do-we-do-nows. Senator includes a "sidebar" in this chapter called "Suggestions for Getting Through the Early Days, After Diagnosis," which lists some helpful tips, along with other topics such as "Beginning the Healing Process as a Couple" and "Making Crisis Storybooks for Your Child," known as 'social stories' in some areas.
The following chapter describes the various early school programs in which her son was enrolled, and includes tips on preparing for IEP meetings, and what to look for with school placements. This information is invaluable for parents whose child has been recently diagnosed. I found myself wishing this book had been published in the 90s!
The next chapter addresses sibling interactions and traveling, including tips for successful family vacations. Following that is a chapter on sleep problems and the use of medication, with a thoughtful debate on whether to medicate or not. I found this chapter particularly helpful to me because I happened to be making a decision about putting my son on Zoloft right at the time that I first read the book. Basically, Senator urges parents to trust their instincts, which is something I must constantly remind myself, and educate themselves. The chapter also listed strategies for dealing with problem behavior.
The remaining chapters deal with more family issues, such as preparing for a new baby in the house and nurturing your marriage (which I read in a wistful way, mine having ended many years ago). The chapter also mentions important information about leaving your child with others and making sure to carve out time to rest.
At one point, Senator writes: ". . .we moved from grieving over his disability to over grieving what lay ahead for him." This resonated with me as I made the decision to homeschool my son and deal with all the changes it encompassed. I found Making Peace with Autism to be empowering in the face of my own struggle.
My favorite part of the book is when Senator discovers that her son is trying to connect with her by laughing. I, too, made this discovery with my own son years ago.  My son's annoying fake laugh is really the way he reaches out, wanting to have fun like everyone he sees around him. He is not completely closed off, in his own world. He has autism, but he is still there with us, interacting. Just on his own terms. It was so affirming to read that other families delight in this discovery as well.
I just leafed through the book again and realized that I had another "favorite part," near the end. It was when Senator's autistic son had his bar mitzvah: all the preparations they made, everything it meant to them, the happiness that flooded them with their extended family in attendance. So beautiful and inspiring.
I can't say enough good things about this book. I think every family trying to come to terms with autism should read it. I also highly recommend reading Senator's blog at www.susansenator.com. On it, she mentions that she just finished writing a novel. I can't wait.